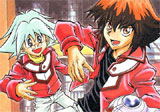 「新ヒーロー登場!!」
Enter a New Hero!!
Genex 1 Release Date: 12/17/2005
A new adventure starts in this new manga in the popular V-Jump magazine! Join Judai Yuki and Sho Marufuji as the deal with brand new challenges in the Duel Academia High School. Ryuga, a Professor-in-Training, has to meet the 50 duel certification before he can be cleared as an official teacher next year. But he's doing it through cheating. Worst of all, he stole Sho's deck! Can Judai beat Ryuga and regain the pride of the academy back?!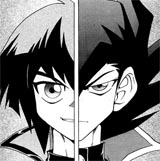 「その名は万丈目!!」
The Name's Manjoume!!
Genex 2 Release Date: 01/21/2006
Jun Manjoume, an first-year student already running to the ranks of an elite of the Obelisk Blue dorms, is a perfectionist. He aspires to be the best and has a yearn to win...so much, in fact, that a loss would be crushing! But he hides something deep. Something so deep he's had to literally bury it! What secrets lie in store in his Practical Examination against Judai?!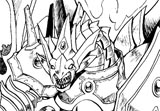 「伝説のドラゴン」
The Legendary Dragon
Genex 3 Release Date: 02/20/2006
It's the duel between Judai and Manjoume (Part 2). Manjoume's Monster, "Dragon Knight", has got Judai cornered. Even playing his ace, "The Earth", makes it seem like he stands no chance of winning! What is this card that Manjoume had to bury behind the Academia to hide? That card. It is...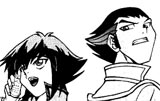 「秀才のデュエリスト!!」
The Prodigy Duelist!!
Genex 4 Release Date: 03/20/2006
Judai's victory over Manjoume has spread across the Academia like wildfire. Ever diligent, first-year student Daichi Misawa studies up on their match. However, he's found out his only weakness...Obelisk Blue female student Asuka Tenjouin. Keeping his crush on her a secret, he becomes utterly devastated when he finds out she has the cell number of Judai Yuki. Misawa confronts Judai and wagers her number for his DVD of the Duelist Kingdom tournament. It's a duel with Misawa's pride on the line!!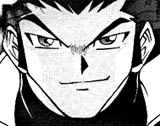 「アース・グラビティ!!」
Earth's Gravity!!
Genex 5 Release Date: 04/20/2006
It's the duel between Judai and Misawa (Part 2). Misawa's tatics leave Judai bedazzled as he continues to summon his "Hinotama Tokens". But that all changes when Misawa summons his key card, "Gouka, the Spirit of Malice" and puts Judai against the ropes. Misawa becomes flustered as Asuka comes to watch them duel, but doesn't let it stand in his way. With Misawa's tatics constantly taking care of Judai from summoning his key monster "The Earth", it looks like a one-way battle!
「ミス・デュエルアカデミア」
Miss Duel Academia
Genex 6 Release Date: 05/20/2006
Asuka Tenjouin is smart, sophisticated, beautiful, and one of the best duelists of her class. But when put into the Miss Duel Academia contest, she turns her head. To buy her freedom out of the contest she has no interest in, she has to beat Judai! Seika Kohinita, a third year Obelisk Blue student also in the contest, watches in wait as the two fight a battle for purposely uneven risks! Can Asuka beat Judai, who was so uninterested in the contest that he was left the only student
not
to vote?!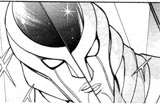 「真のデュエリスト!!」
A True Duelist!!
Genex 7 Release Date: 06/21/2006
It's the duel between Judai and Asuka (Part 2). Asuka's cold tatics have left Judai without The Earth. And her "Cold Enchanter's" icy powers have left his monster's frozen. In order to win her out of the contest, Asuka gives it all she's got. But while they duel this passionate duel, Asuka shows her pure-seated determination about her statis as a duelist.
「二人のアニキ!!」
The Two Big Bros!!
Genex 8 Release Date: 07/20/2006
Sho Marufuji is the brother of Ryo Marufuji, aka. Kaiser. He and Asuka's brother are studying in the American Duel Academia abroad leaving him with one impressive conversation piece. However, Sho finds out from Professor Chronos, he recieved a 0 in his midterm exam! Now, in order to stay in the academy, Sho must duel his own "Big Bro"! Judai! If Judai dares to throw the match, he'll have his cards taken away as punishment! Sho plays with a new card he recieved from this brother...
「熱い友情!!」
Passionate Friendship
Genex 9 Release Date: 08/19/2006
It's the duel between Sho and Judai (Part 2). Sho is clad in his direct-equip magic card, "Transformation" which proves a big threat to Judai. Desperate, Judai draws two cards from his magic card and the words of a friend reverberate through his head...making him push on in the fight. Then, Professor Hibiki arrives...
「運命の出会い!!」
The Meeting of Fate
Genex 10 Release Date: 09/21/2006
Judai ventures into his past. Back when he was in the hospital as a kid, he had no interest in dueling before he met a man named "Kouyou." The man soon became his idol and "Midori", the man's sister, also became acquainted with Judai. Though the reason for Kouyou's stay is never peered into, he attends a big tournament despite his sister's wishes. And there, the pro duelist, Kouyou...
Tatsunoboshi Horoko - 2006/07/16 14:54