A card that surpasses the Three Mythic Gods!? Kaiba has obtained a mysterious card, the "Pyramid of Light"! Meanwhile, Yugi hears an ominous premonition involving Kaiba and the other Yugi that grasps Kaiba's own life and the fate of the two Yugis. A dangerous duel has begun! An original movie, a big hit in the States, in complete novel form!!
遊戯王デュエルモンスターズ-光のピラミッド
Yu-Gi-Oh! Duel Monsters: Pyramid of Light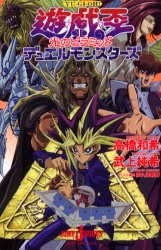 Created by: Kazuki Takahashi
Author: Junki Takegami
Duel Layout: Masahiro Hikokubo
Japanese Translations: Tatsunoboshi Horoko
Novel Provisions: Gato/Cindy
About the Creator/Author:
Kazuki Takahashi:
Debuted in 1990 with "Tokio no Tsuma." "Yu-Gi-Oh" is serialized in Weekly Shonen Jump from 1996 to 2004. Published in many countries all over the world, it is a blockbuster hit with its own anime broadcast on television.
Junki Takegami
Born in Kagoshima. Currently lives with his wife and eighteen cats. Series Layout and Scriptwriter for "Yu-Gi-Oh! Duel Monsters GX." He is currently working on the scripts of such shows as "One Piece", "Pokémon Advance Generation", and "Dekaranger."
CONTENTS
Prologue
Chapter 1: The Omen
Chapter 2: The Three Mythic Gods Appear
Chapter 3: The Pyramid of Light
Chapter 4: Shining Dragon
Chapter 5: Anubis, King of Destruction
Epilogue
Yu-Gi-Oh! Duel Monsters: Pyramid of Light
Character-Specific Potential Analysis
PROFILE
Yugi Mutou
Possessor of the Millennium Puzzle. After he earns his dark powers, he becomes Duel King and obtains the Three Mythic Gods.
Seto Kaiba
The young head of Kaiba Corporation. Rivals with Yugi in the card game Duel Monsters.
Pegasus J. Crawford
The creator of Duel Monsters. He was once in possession of the Millennium Eye.
Sugoroku Mutou
Yugi's grandfather. Back when he was active as a treasure hunter, he obtained the Millennium Puzzle.
Mokuba Kaiba
Seto Kaiba's younger brother. Committed to his brother, his only blood relative.
Anzu Mazaki
Yugi's childhood friend.
Katsuya Jonouchi
Yugi's classmate and friend.
Hiroto Honda
Yugi's friend. Always hangs around with Yugi and Jonouchi.
This is a work of fiction. Any resemblance to actual persons, groups, or events is purely coincidental.
Tatsunoboshi Horoko - 2007/02/23 02:55